Class Pass
Your Annual Pass to Hands-on, Instructor-led, Virtual Training
Save up to 90% annually on Salesforce training!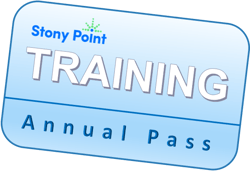 Class Pass
A new way to look at training! Stony Point now offers Class Pass: an annual pass where you can take as many of our instructor-led virtual Salesforce classes as you want.
Unlimited Instructor-led Training
Frequent Class Offerings
Flexible Scheduling
Practice Exams and Instructor-led Q&A Review
Virtual Public Classes
Large Catalog of Salesforce Classes
Optional on-site classes and Bootcamps
New Certified Technical Architect (CTA) coaching and mentorship track, too!
Get a Quote
Learn how our Class Pass subscription service can simplify your training and significantly reduce training costs!

"Stony Point's Class Pass has been an effective --and extremely cost-efficient-- way to get our new hires up to speed on Salesforce fast. It also provided our more senior people an accelerated path to earning additional Salesforce Certifications."
-Alex S.
Liberty IT Solution